Elmhurst Terrace
A unique site presents a unique opportunity. 
Located along the busy thoroughfare of Astoria Boulevard, where significant commercial and residential structures intertwine, you will find our latest mixed use development; complex in planning and design.  The East Elmhurst neighborhood, located in the northwest section of Queens near Flushing Bay Promenade, LaGuardia Airport and Citi Field is a desirable neighborhood for new development. The unique development of Elmhurst Terrace started with complex zoning lot merger and subdivision, followed by many hours of research to best utilize the space and maximize rent-ability.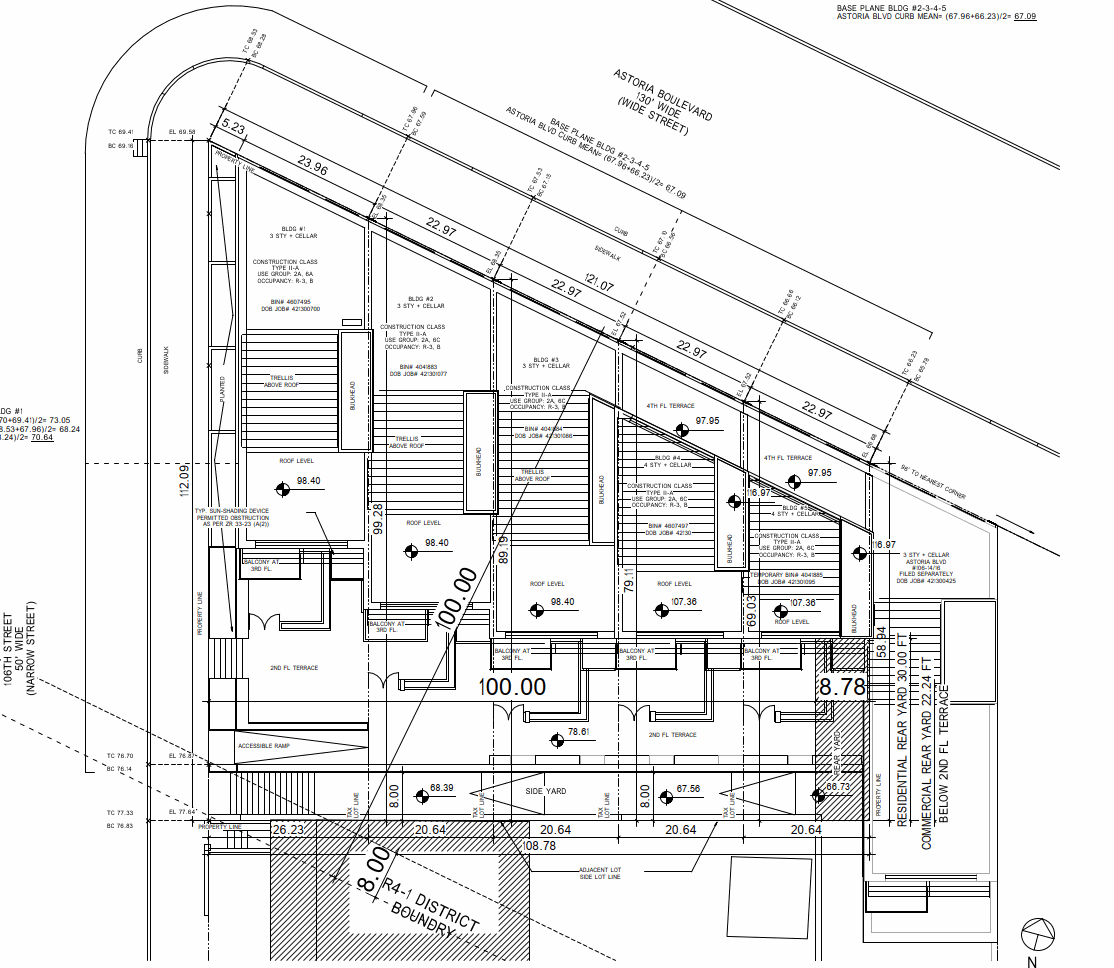 Merging and sub dividing the original four tax lots to create one lot with five separate tax lots, and a separate one with one tax lot. Our client came to us having purchased four separate lots adjacent to one another.  The lots included multiple single family residences, a garage, and two vacant lots. Our client's vision for development was unclear which allowed us a level of freedom for design and development.  We faced many challenges starting with the irregular shape and depth of the lots.  Our challenge was to manipulate the lots in a way that would enable us to introduce and optimize mixed-use occupancy, while considering zoning parameters and site irregularities. After conducting a thorough zoning analysis, we concluded the best option for our client. We combined the four existing zoning lots and created two zoning lots.  One zoning lot contains 5 tax lots while the other has one tax lot. Through strategic sub dividing and merging lots, we were able to meet the needs of our client to improve rent-ability and marketability.   

Location and topography presented a unique opportunity.  The location of the lots presented a rare opportunity. Through the exploration of site access options for different programmed uses, we determined that by using the slope along 106th St., we could optimize the sites access features and maximize rent-able square footage.  All six commercial spaces have street level entrances along Astoria Boulevard.  Each first floor commercial space has the option to combine with the separate unseen cellar commercial space below, or remain divided, depending on the tenant's needs.  Our design is meant to have commercial flexibility and increase tenant possibilities such as restaurants, parlors, retail, etc. This allows the developer/owner to widen the pool of potential lessees.  The private alley way access in the back provides a large enough space for commercial delivery and loading as well as providing a second mean of egress.


Rear residential access is shared between residence while providing a sense of privacy. The entrances to the first floor units are through an exclusive ground floor patio, while the entrances for the upper units are through a private side entry to the right of each patio. The goal was to have a private entrance for every residential unit creating an intimate feel in a busy neighborhood. 

Six individual buildings designed to look like one homogeneous structure. Along Astoria Blvd, the building appears to be a single cohesive design. In actuality, the structure incorporates 6 buildings which have shared access for one programmed use.  The three and four story buildings are designed as one unique, super insulated, air tight, CMU structure. 

The rear access configuration was specially approved by the MOPD (Mayor's Office for People with Disabilities) and the FDNY for accessible means of access, for all units sharing the terrace.  The commonly shared communal terrace creates an intimate space for all the occupants to enjoy. As part of our quality of life commitment that we try to instill in all of our designs, we want residents to be able to have an intimate oasis even in a bustling metropolitan setting such as East Elmhurst.   

Passive House principles were utilized throughout the design.  The entire project is tailored towards sustainable innovation.  The bedrooms were placed on the North facing side of each unit facing Astoria Blvd.  The living quarters have South exposure to maximize sunlight. Triple glazed windows, and a super insulated envelope, help the building to exceed energy code compliance by 50%.  The installation of an Energy Recovery Ventilation System (ERV) ensures superior indoor air quality for all interior spaces including both commercial and residential.  

Not only does this create a safe and healthy indoor environment for tenants, it also helps save money for the owner/developer/landlord. As we spend more of our time indoors, whether it is due to Covid-19 or other factors, excellent indoor air quality is something that should be accessible to all.

Open rooftop decks add living space and additional sustainability.  By incorporating a blue roof design we are able to temporarily store rain water which is gradually released.  The second floor units have a rooftop deck providing additional outdoor living space for residents to enjoy luxury outdoor living, and promote occupant well being. The rooftop decks include an outdoor kitchen and pergola to create shading for cool relaxation.

Our sustainable designs are now more important than ever in today's climate. The design reaches desired sustainability milestones.  A mixed-use building containing both commercial and residential spaces can function harmoniously.  All the sustainability principles that are incorporated throughout promote a healthy lifestyle for residents
This project illustrates our commitment to sustainability and Passive House principles.  We believe even in New York City, it is more important than ever to have your own small private green space, good indoor air quality (achievable through the Energy Recovery Ventilation System), and to maximize Passive House principles.  We strive to do this with all our designs, and we aspire to achieve a healthier indoor and outdoor environment for all city dwellers.